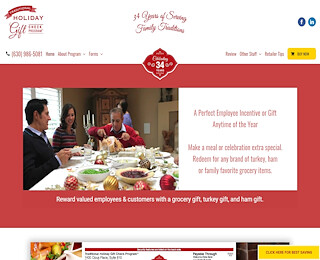 It can prove to be challenging to think of something to give to an individual or a group, especially if you're a company and want to give something to your memorable and useful employees. And sometimes thanking a person or a group is not enough as you want to give something more. Sure, there are quite a lot of options out there, but there are factors that you have to consider before purchasing a potential gift. But if you want the best gift for these people, go with Butterball gift certificates and gift checks.
Butterball Gift Check Program
With the Butterball's holiday gift check program, you will be able to give something meaningful. Not only that, but this program also is budget-friendly and flexible since you don't need to spend much. You are free to choose the denomination to give from a dollar up to fifty dollars. And there is no need to worry about returning unused checks because these gift checks do not have expiration dates, so its users are free to spend it any time.
It is better than any other gift card. Compared to a set gift card that allows a user to a particular retail store, these gift checks will enable its user to use it at their preferred grocery retailer or local stores nationwide. You don't have to think about where to purchase some items and groceries because your gift card limits you.
Another great feature that this gift check and a gift certificate for Butterball will see is that you can customize it. Put some personal touch to this gift by adding personalized messages, whether to a family, friend, or an employee. You have the freedom to adjust the fonts and sizes that you will use. There is also the option to include images or even a logo of your company.
Fast and Convenient
No need to worry about any delays, as Butterball gift check and certificates are ready for you within 24 to 48 hours right after payment has been made. After verification, your gift checks are ready to be delivered to you. We can even process these checks during the holiday season.
For the Turkey
In the past various companies hand out turkeys or even ham to their employees and customers. But ordering a bulk of frozen turkeys can be expensive and a bit stressful. Not to mention you don't get to choose the best turkey worth your money. But now, using the Butterball turkey gift certificates, this allows anyone to purchase their turkey without any hassle. The customer can buy the turkey; however, they want it.
Giving gifts to your friends and family is easy to know. Ham and turkey gift checks are available all the time. But you will need to check who among these companies that offers the best product. You can trust the Butterball gift check program to answer what you are looking for. Contact the Traditional Holiday Gift Check Program at 630-986-5081 to purchase your gift checks.
Holiday Gift Check Program
+1 630-986-5081
1400 Opus Place
Downers Grove
IL
60515
US