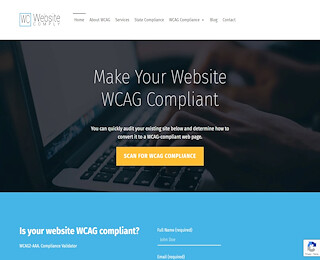 There are a lot of things that go into running a website, and many things you need to be aware of. You could end up with a lawsuit on your hands, and you may not even know what you did wrong. Websites are meant to comply with certain federal laws. They need to be compliant with WCAG 2.0 AA guidelines, and if your website does not comply with these guidelines it is up to you to get it there. There are WCAG compliance tools that can help you get your site up to speed. You can go to Website Comply to check if your site complies by using their validator tool. The main thing you need to make sure is that your website is ADA compliant.
What Does ADA Compliant Mean?
ADA stands for the Americans with Disabilities Act, and it was established in the 90s to ensure disabled people had proper access to any public areas. While this originally applied mainly to buildings, it has since started applying to websites. This is because the internet is used so commonly it is considered a "public area." Your website is not allowed to have any barriers that could possibly keep someone with a disability from using it. If you don't know if yours is, you can try WC's validator tool.
Why Should My Site Be ADA Compliant?
If your website is not ADA compliant, you may be served with a lawsuit or demanded to make it compliant. Other than legal repercussions, there are various reasons to make sure your site is ADA compliant.
Increases Target Audience
In the U.S. alone, there are around fifty million people who suffer from a disability. These people can't access your site if it is not ADA compliant, which means you are missing out on potential audience members. If you have a video with no captions, deaf people won't know what it is promoting. If you have images with no alternate text available, blind people will not know what your site offers. It is quite possible these people would be interested in your products or services, they just might not be able to properly access them.
Help Your Reputation
If your customers know that you put in the effort to make sure your website is ADA compliant, it will likely make them respect you more. They will know that you truly do care about your audience. After all, you may have competitors you did not put in this effort and have since lost business. Some of your newer audience members may have found you after the disappointment of sifting through dozens of inaccessible websites.
Better Website Usability
You can meet the WCAG guidelines and become ADA compliant while making your website easier to navigate for everyone who visits. As a whole, your site will be easy to understand, and people will be able to easily find what it is they are searching for. Even if you have no idea if your site meets WCAG guidelines, you can quickly find out by using the validator tool found at Website Comply.